31 May, 2022
ARMIS ITS at the ITS European Congress
event
---
ARMIS ITS attended the ITS European Congress, in Toulouse, representing the ITS Portugal association, directed by Pedro Barradas.
---
Between May 30th and June 1st, the 14th ITS European Congress took place in Toulouse, under the theme 'Smart and Sustainable Mobility for all', organized by ERTICO-ITS Europe and the European Commission.  
ITS Portugal was represented in the Congress by ARMIS Intelligent Transport Systems and Pedro Barradas, our CSO, participated on the opening session, under the theme 'Intelligent Connections for a Smarter City and Future', together with SWARCO and QUALCOMM.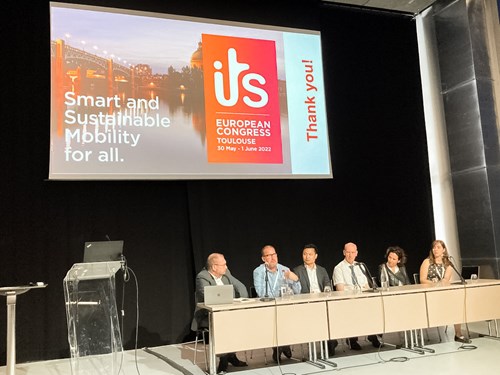 Lígia Conceição, ITS Consultant at ARMIS ITS, participated in the sessions 'Sharing ITS best practice to maximise take-up' (SIS 10) and 'The role of C-ITS in cities in tackling public policy issues' (SIS 59), under the scope of technological innovation in mobility of people and goods. 
Pedro Barradas participated as moderator in the session 'C-ITS city forum: drives and challenges for C-ITS urban deployment' (SIS 65), focusing on future solutions for urban mobility.
 
The last two sessions represented the C-Roads City Forum, an annual WG4 event.
ITS European Congress is the leading event for smarter mobility and transportation solutions and represents the showcase of mobility services implementation as a means for the ITS Community to keep up with the incredible evolution of the industry. Over the years, the Congresses have provided a platform for entrepreneurs and decision-makers from the transportation, logistics and IT industries to share ideas and progress smart and sustainable mobility. 
Learn more about the event here.
---
Share this article: