Know who is visiting you
Enable onboarding and tracking of external visitors to your organization in a safe and efficient way, through a process of check-in of visitors to buildings and notifications to those who are visited.
To facilitate space management, ARMIS has developed Visitors HUB, an intelligent solution that aims to simplify the Check-in process of external visits to the physical spaces of your organization and their subsequent tracking. This process is fundamental in the organization of workspaces and in the social distancing practices inherent to the pandemic.

Visitors HUB is a part of the Digital HUB product suite.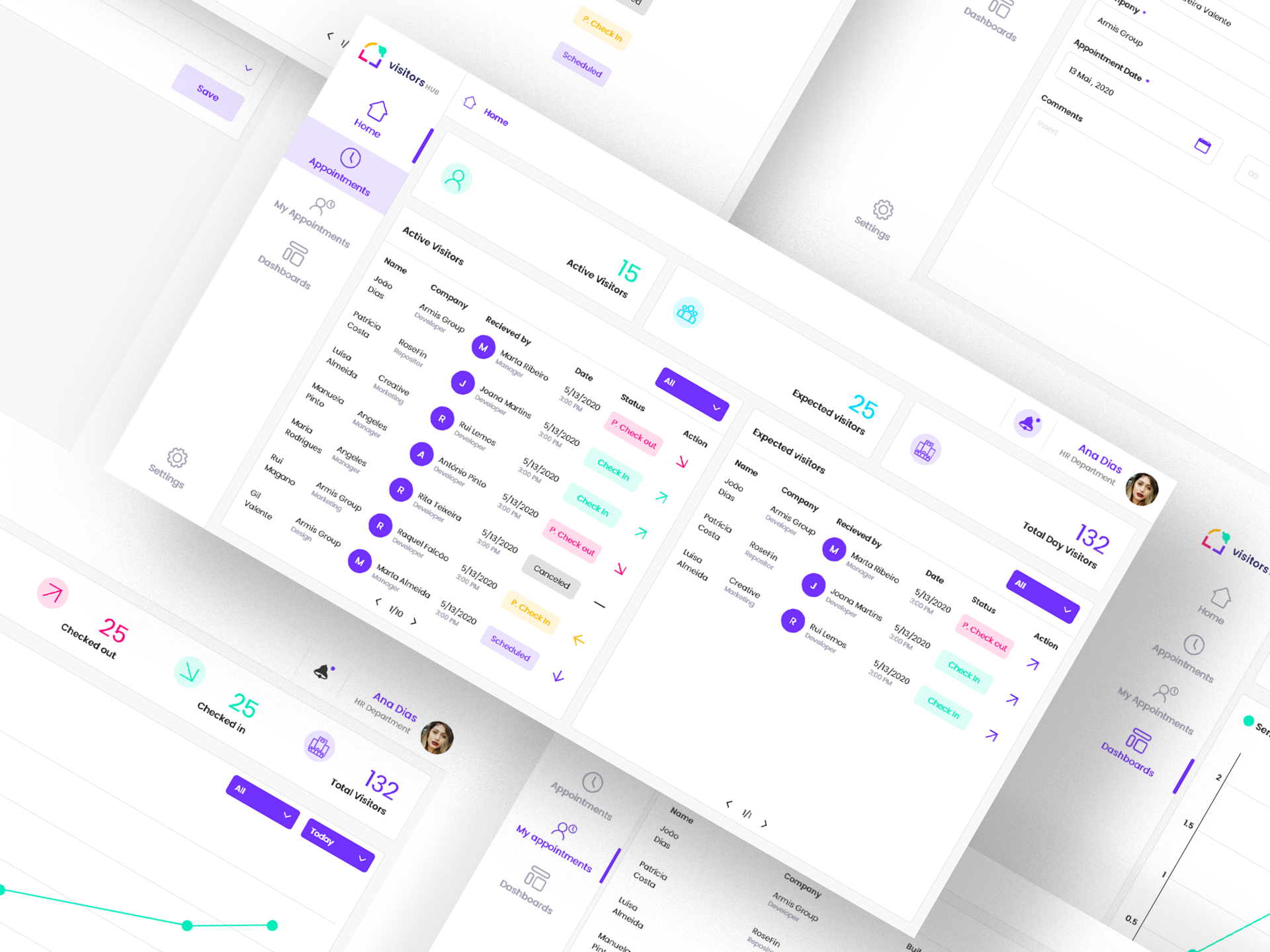 MANAGE IN AND OUT FLOWS
Now you can know how many people are inside your organization in a simplified way and control the flow of people in and out safely and effectively.
FACILITATED ONBOARDING PROCESS
Registration of visitors on arrival at the organization through check-in, based on appointments made. The onboarding of visits becomes an agile, fast and dematerialized process.
The visited employee is notified by email or Teams of the visit check-in. After their acceptance, the visitor can access the facilities.
Through the dashboard, it is possible to follow the entrances, exits and presences in the installations with entrance and exit validations. You can manage the daily evolution of all visits and appointments.
Visitor registration at the entrance and acceptance of the visit.
Access to the facilities and activities of your visit.
Authorization of departure by the visitor and confirmation of authorization at departure.
Features
Powerful features to track external visits to your organization
Scheduling

Visited employees may previously schedule visits to the facilities.

Visitor Registration

Dematerialized check-in at the entrance to facilitate the onboarding of visitors.

Notifications

Visited employees are notified of the arrival of visits in a quick manner.

Traceability

Monitoring of entries, exits and presence in buildings.

Reporting

Dashboard and reports regarding the organization's visit history.

Organization of spaces

Through the management of visits, follow the occupation of the facilities.
---
Prepare your facilities for those who visit!