Meet the new Rewarding Hub
The motivation of your workforce is crucial for productivity. But motivating your teams to participate in several internal activities and promote changes can be a challenge. Your employees' motivation can be boosted by rewards, sense of competition and recognition of achievements. 
With the new Rewarding HUB you can gamify Adoption & Change Management, as well as encourage employees to participate in activities. 

Rewarding HUB is a part of the Digital HUB product suite.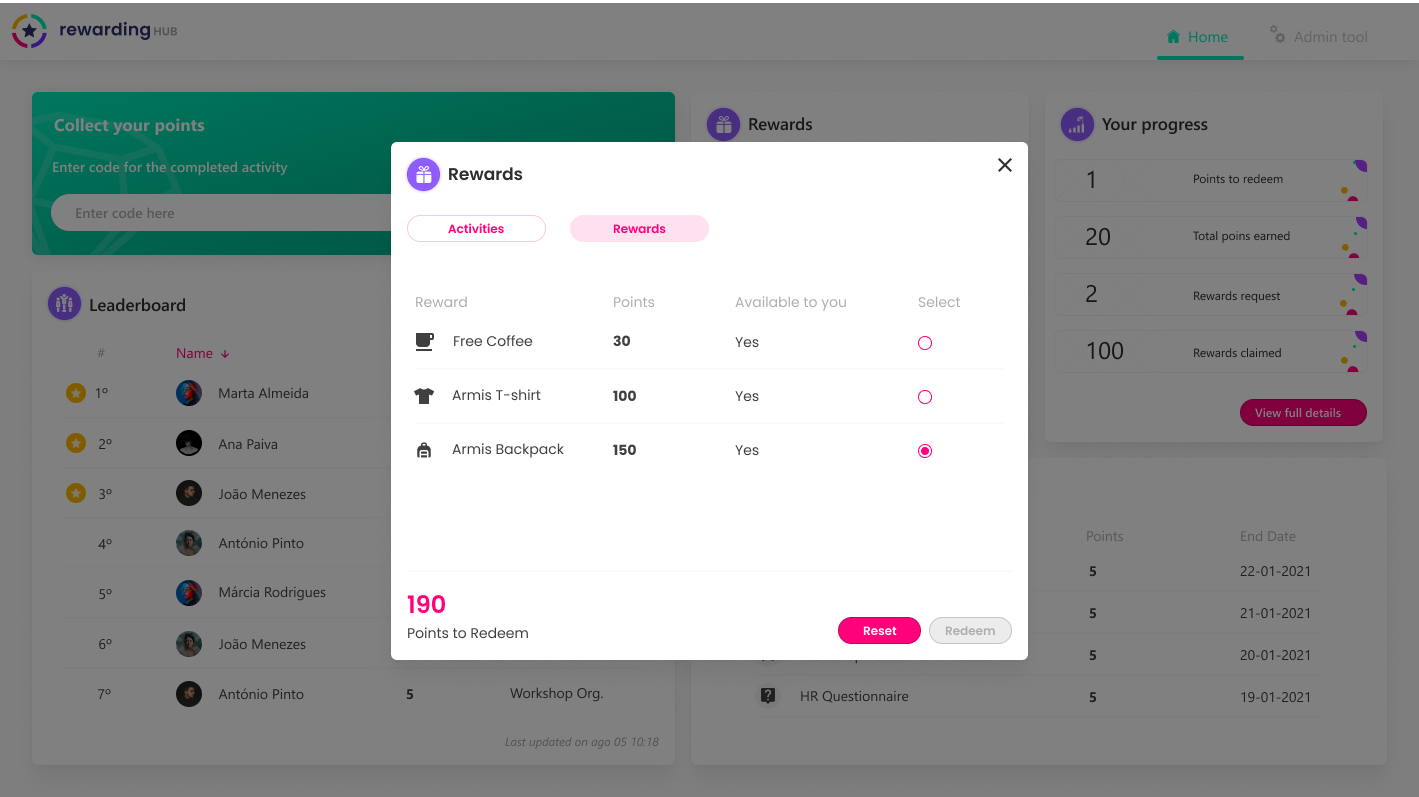 MOTIVATE YOUR WORKFORCE
Engage employees with a rewarding system and motivate them to be part of internal activities. It also Incentivizes behaviors you want to encourage as part of organizational change management strategy.
As they participate, employees receive points that are redeemed as activities are completed. Employees can access the Leaderboard to compete with each other.
Allow employees to track the progress of completed activities, as well as points collected in each one. 
Update and add activities and rewards, approve requested awards and manually edit points for users.
Employees participate in incentivized events or activities receiving points for each activity and track progess on the Leaderboard.
Points can be redeemed for Rewards (Coffee, Food, Shopping, etc...)
The organization can then leverage the data to track and report on progress associated with employee participation.
FEATURES
Engage your employees using the Rewarding Hub
Rewarding system

Allows employees to earn prizes or recognition once they complete nominated activities.

Leaderboard

Employees can use the app to view their accumulated points or track their position on a leaderboard.

Reward claiming

Employees will be able to request rewards once they become eligible for them and choose to claim one or more of them.

Point levels for rewards

Admins can establish adoption activities with points, assign points for completion, create rewards, and specify required eligibility point levels for rewards.

Reward approval

Admins will approve requests individually by providing a unique voucher code which can be then redeemed by the end users at retail outlets/cafeteria etc.

Easy adaptation

Can be leveraged for coordinating any other system or process change like a new HR system or to be used as part of go-green initiatives.
---
Motivate your workforce with this solution.