MEET THE NEW SKILLAB
Many organizations and their HR teams have huge difficulties in creating career plans adapted to their employees, either because of the lack of automation in this process or even because of the lack of time generated by the daily rush.
SkilLab is a solution that allows organizations to visualize the level of each employee, present them with training that is suited to their profile and at the same time integrated into a tool that they use daily (Teams).

SkilLab is a part of the Digital HUB product suite.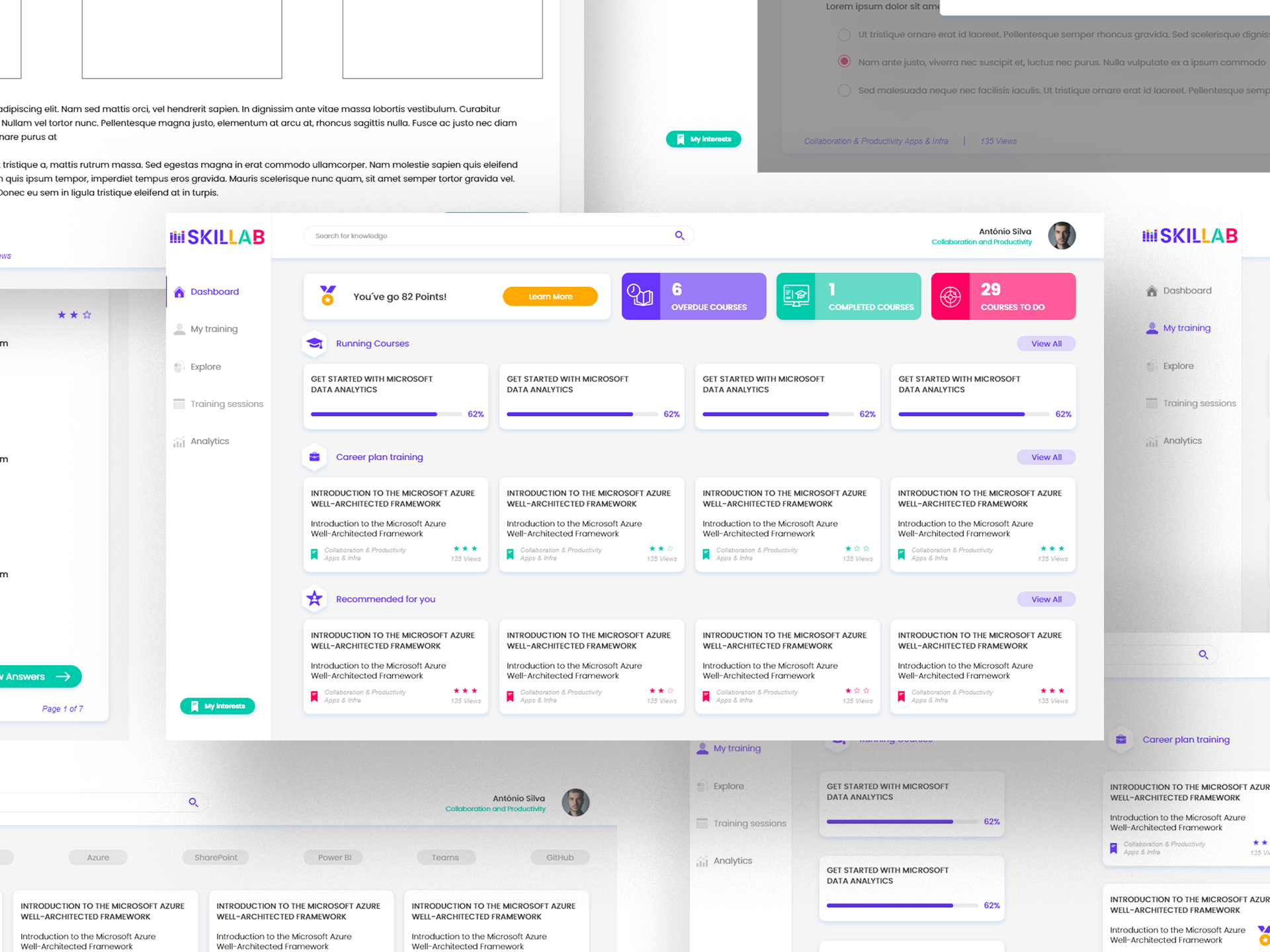 COMBINE KNOWLEDGE WITH CAREER PLANS
SkilLab was designed and developed for all organizations who wish to follow the progress of their employees, closely and according to their career plan, in a simple and efficient way.
HR teams define the training specifically for the employees' career plan, manage progress and indicate the profile to which training adapts.
This awarding and gamification model promotes motivation. Professional development can be combined with career progression and promotions.
Mandatory training is included in the employee's career plan based on their roles, while the HR team can track usage and execution of coursed plans.
Digitally transform the workflow of HR teams.
In the Analytics area, HR will have the possibility to analyze all statistics on the use of the platform.
The HR team, when submitting the course within the platform, can also define the profile or profiles of employees to which the training adapts.
Features
Enable a certification and training plan to employees careers based on their roles
Career plan

Follow employees' progress and recommend training according to their career plan.

Performance monitoring

Employees can monitor their performance, trainings that they have already completed and those that they still have to do.

Productivity

Centralize in a unique hub that organizations can take advantage to collaboration and productivity.

Courses recommendation

Courses recommended according to the employee's use and based on the usage of his colleagues, applying AI algorithms.

Intelligent Alerts

Be alerted on new or updated training courses for each employee, based on their career plan, or profile or manually marked as important by the employee.

Traceability

Keeping track of the progress and execution of the mandatory training as part of the career plan for the employees.
---
Enable training and self service education plans for your teams!