Meet the new Workplace
The return of workers to the physical spaces of organizations can be a challenge. But organizing workplaces, particularly in the allocation of people and materials, respecting distance and recommended practices, does not have to be a hard task.
With Workplace HUB you'll get an easy, automated and traceable way to manage all workstations across your organization's facilities.

Workplace HUB is a part of the Digital HUB product suite.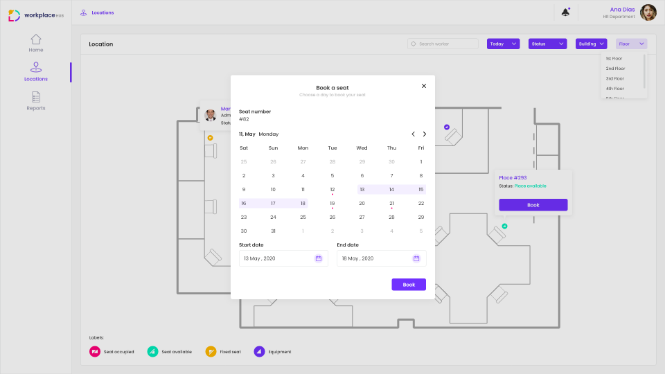 SOLUTIONS FOR COMPANIES
This solution facilitates the creation of traceability reports, allowing the monitoring of people flows for the correct functioning of the spaces and the identification of possible contagious focuses.
SIMULATE NEW WORKING LAYOUTS
Manage your office space and plan your employees' workstations by reconfiguring layout floors and defining seatings.
Allow workstation reservations and approvals workflows to avoid unnecessary journeys around the building.
Combine historical data to detect any link between people with signs of infection.
HR or Contingency team define workstation availability.
Employees book, wait for approval and use the workspace.
HR get reports and can proactively manage the workspace.
Features
Our tool has powerful features for you to use. These are our favorites:
Building floors

Digitalize your building floors and reorganize workstations according to health recommendations.

Bookings

Allow daily or weekly bookings and set approval workflows.

Access Control

Limit unnecessary journeys across departments, floors or buildings.

Traceability

Trace +14 days historical proximity between employees with signs of infection.

Dashboards

Live analysis to quickly adapt your workspace to updated health recommendations.

Intelligent alerts*

Integrate with People HUB for intelligent alerts after an employee reports an infection.
---
Ask for a demo and start reconfiguring your organization's workplace.